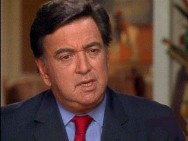 Richardson Enters 2008 Presidential Race

Jan. 21, 2007 — The field for the Democratic presidential nomination got still more crowded this morning, with New Mexico Gov. Bill Richardson announcing he will take the first step in a run for the White House by forming a presidential exploratory committee. Richardson followed the announcement with an exclusive interview with George Stephanopoulos on ABC's "This Week."

"The next president must be able to make us energy independent, must be able to make schools better, create jobs, give the American people, every American, a fair shot," said Richardson. "To get that done, you need real-life experience. All I'm saying is, a lot of these folks can make speeches about all these things. I've actually done it."